This Picture file contains family pictures of the Amandus Woeber Family of Davenport Iowa. Amandus was born 2/5/1827 and Died 10/7/1905

Born in Barvaria, moved to America in 1840. Amandus resided in Cinncinnati OH for 13 yrs and learned cairrage making by serving an apprenticeship there. Moving to Davenport Iowa in 1853 he established the first carriage factory in the state under the name of Woeber Bros., in partnership with his brother Gallus. Family members are: Back row, Amanda Katherine, Sebastian Amandus, Lillian Cecelia, Maria, John Aloysius, Theresa Joseph, Margaret Jane. Front row: Agnes Augusta, Mother Theresia Schannes Woeber, Gertrude Theresa, Maria Magdalena, Anna Oliva, Leah Natalia, Father,Amandus Woeber
---
Amandus had two brothers Gallus, and Adam and one sister Lena. Amandus was the oldest brother and was the founder of the Woeber Carriage Works, it was started in Davenport IA in 1853. In 1867 Adam went to the territory of Colorado, city of Denver and started a branch company he called A.Woeber Carriage Builders. Amandus bank rolled this operation. Later it was also known as Woeber Brothers Carriage works. Gallus moved to Denver with his Wife Margaret and their five children. Margaret died shortly after the move in about 1872. Gallus died at 42 yrs. of age in 1875 leaving the five children to be moved back to Davenport to be raised by Margaret's family (The Noels) and Amandus and is wife. Adam built some of the finest carriages for the wealthy of Denver and surrounding cities. He also built many hundreds of ore hauling wagons for the gold and silver fields of Colorado. A son of Gallus, Charles William Woeber at age 21 collected his inheritance and returned to Denver and Joined Adam in the Denver Factory. Adam had also been building horse drawn street cars and later electric street cars. In fact they built almost all the streetcars used in Denver and the other front range cities. As close as I can figure it was about 893 of them. A news paper article from the 1950's was titled "Adam Woeber, He kept early Denver" it tells much of this story. The company was quite large and famous. Adam had a son Rudolph, who ran the company with Adam and Charles William. It was sold in 1950 or so but kept the Woeber name until it shut down in 1969. That's the short story, but tells most of what happened. More about me. Theresa Josepha Woeber, Daughter of Amandus was my Great, grandmother. She Married Frank Reese and they had several children including my grandmother Constance. Constance Married Raymond Schmitt and they moved around a bit settling in Thorp Wi. where they ran a bakery. They also had several children, My mother Therese, is the youngest. She married Gordon Conrad in 1950, I'm the oldest of four children.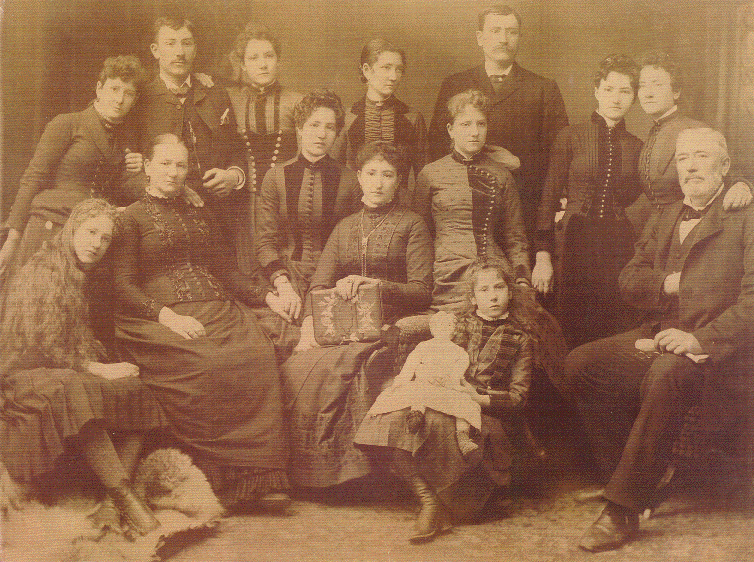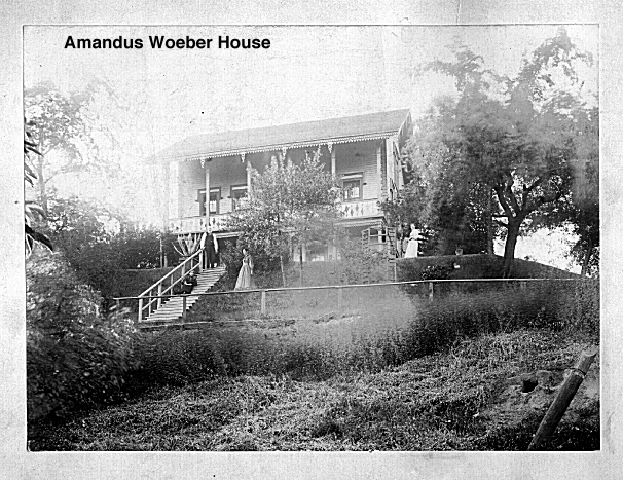 ---
---
New! Pictures from the Woeber Reunion in Ft. Collins and Denver CO. October 8th & 9th 2000
---
---
NEW Sept. 2001 Visit the Cherrelyn Horse car, a Woeber built car!
---
Grave stones in Holy Family Cemetary, Davenport IA. Use the back button on your brouser after viewing.

Woeber Plot stone, Amandus Woeber, Theresa Schannes Woeber, Mary Woeber,

Jennie Woeber, Sabastian Amandus Woeber,
---
Amos Woeber, His wife Mary and daughter, Minnie Lage are also in the Holy Family cemetary. I am unsure of Amos' exact relation, can anyone help me? He was an important part of the Carriage bussiness in Davenport and Denver. He was infact involved in moving parts to start opperations in Denver and was married there before returning to Davenport.
---
Joe Nonnenmacher married Katherine Woeber, She died after the birth of their 3rd child. Joe then Married sister Lillian Woeber. Their graves are located in DeWitt IA.
---
---
Grave stones in Mount Olivet Cemetary, Denver CO. Use the back button on your brouser after viewing.
Adam Woeber Plot, Adam Woeber, (Mrs, Adam)Gertrude Woeber, Charles William Woeber,
Frances S.Woeber, Harold W. Woeber, (Mrs. Rudolph) Josephine Woeber,
---
The following carriage picture in from Dennis Middlemist. It is of the Colorado Springs Transfer Co. It was built by Woeber Carriage Co in Denver Co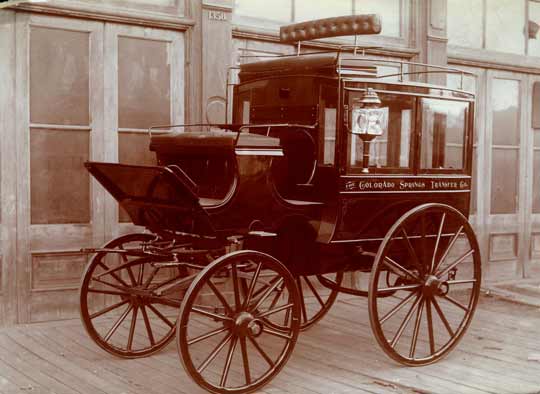 ---
This is how the Woeber Carriage Works looks Today, this picture was taken March 2000. This is the 2nd oldest commecial structure in Iowa. Built of limestone in 1853. Wouldn't it be great if this grand old building was restored to original condition.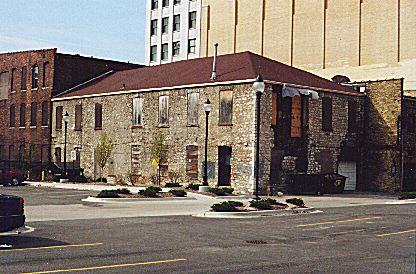 ---
Anyone with more information on the Woeber Family please contact me by clicking this text. Thanks, Dave Conrad (Great, Great grandson)You may also phone me at 715-845-7545 between 9:00-10:00 pm central time.
Link to the Woebers in Colorado
updated 8/13/00